First wedding to take place at Jackson House since renovations | News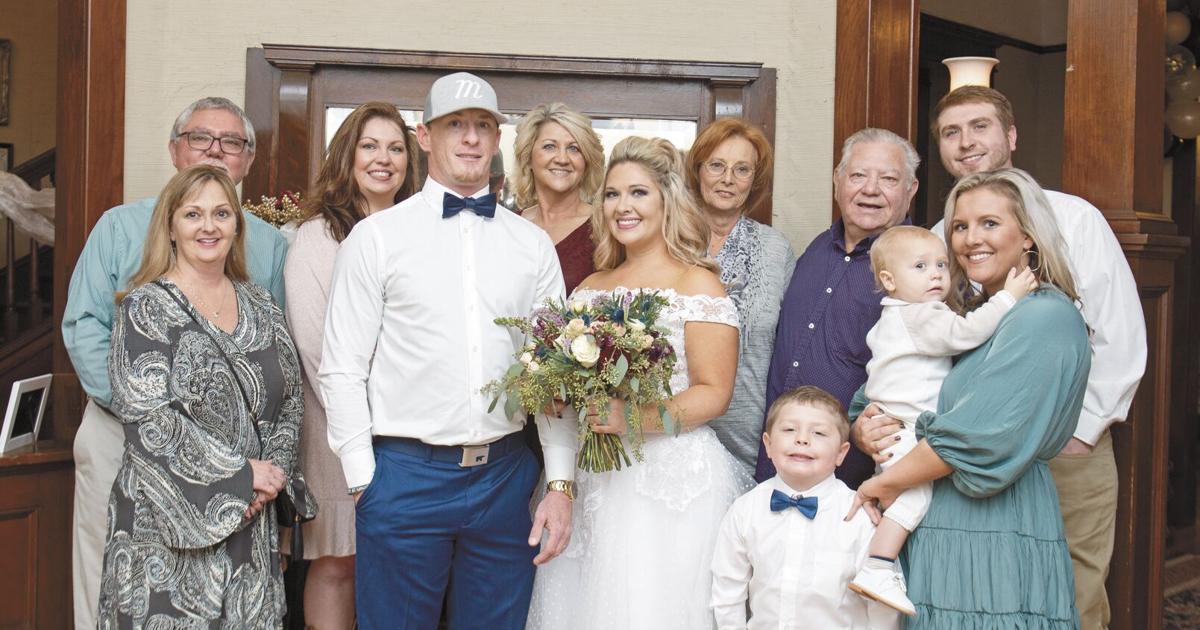 In 1989, Cyndi Colvin Proctor never would have dreamed that she would get married in a historic home in Moulton, Alabama, but that's exactly what happened shortly after arriving here. She did not know at the time that it would one day be the setting for her son's wedding in 2021.
She and her future mother-in-law came to decorate the first time. "There was very little furniture back then and we had to do a lot of decorating the night before, but it was worth finding a central, neutral place for the family," said Proctor. "The family came in and made all the food and we played 'We've Only Just Begun' by the Carpenters for our wedding song," she recalls.
Cyndi's grandmother was unable to stay for the wedding, but the previous week she had visited Moulton and gave her granddaughter the garter she had worn on her own wedding day. Something borrowed was taken care of and Cyndi wore blue shoes, so there were two old adages taken care of. The dress she and her bridesmaids wore were all lightly worn, although not quite old, and her ring was new.
This garter would also play a role in her son's marriage.
Tiffany Romans and Clint Proctor attended Hatton High School and were a fixture in their early teens. They dated throughout school and when the time came for Clint to ask her to marry him, he came up with a new twist to the proposal. "He blindfolded me and took me outside somewhere," Tiffany recalls.
"The only thing I really liked was football and Tiffany," said Clint. "It was my first visit to the stadium since I graduated.
When he removed the blindfold, she found herself alone with Clint on Hatton's 50-yard line. "He proposed right there and of course I said 'yes!'," She laughed.
The couple chose the Jackson House for their wedding. She didn't realize until this story, that they were the first couple to get married in the recently renovated historic home. She didn't even realize her in-laws got married there when Clint was a baby until they went to visit the house for the first time to see if they wanted to have their ceremony there. .
"I had gone to sleep there when I was about 12," Tiffany said. "I always remembered how much I loved him back then so I was delighted to see him again and that had really changed!
These changes had been in the works for a long time. Almost 11 years ago a journey began; a quest to furnish and renovate the historic Jackson House, once a great asset to the community, but by then it had become a real handicap, with rotten floors to prove it.
Tammy Roberts led the group, which became the Jackson House Foundation. It brought together people from all walks of life to come together to pool their talents. Some were good at networking, others were journalists, politicians, lawyers and professionals, some were retired educators and others were good at organizing fundraisers, as well as two administrators and others with valuable people and professional skills.
The original fundraiser, brunch and bingo followed by fried fish and a buffet were an instant hit with the community. They set the stage for further fundraising and the Foundation began working on the house almost immediately, with security at the forefront.
Last November, Proctor's wedding was the first ceremony to take place there since the completion of major renovations, which included a new roof, new floors and ceilings in the kitchen and hallway, wiring, painting, redesign of the upstairs bathroom and last but not least, a new central system for the whole house, in addition to sweat equity buckets. It's been 10 years, but the wait was worth it!
Tammy Roberts, JHF President, found it very interesting that the groom's parents got married at JH in the late 1980s. "We are very proud that they chose JH to carry on a family tradition," said Roberts. . "We, as JHF, formed 10 years ago with this goal and now, after many years of fundraising and grant writing, we started renting last July. "
"We were ready in 2020 but COVID has changed our mind for us," Roberts continued. "We have one major renovation left on the to-do list which is to renovate the enclosed wrap-around porch. We have $ 8,000 saved now to go on the project. Hopefully, as rentals start to increase, we can continue to save and get the project started ASAP. We can't wait to book our next wedding and other events in 2022.
Clint and Tiffany first married in October 2020, but the same thing happened to them, COVID. They took their vows at the courthouse, but both wanted a more formal ceremony, so they repeated their vows on November 28, 2021 at Jackson House.
"I've always loved this house," Tiffany exclaimed. "I love everything about it!"
Tiffany especially admired the newly decorated upstairs bathroom, but everything about the house enchanted the bride.
When Cyndi and Jason Proctor got married there in '89, she came down the stairs in stilettos. "I felt like a man in a stiletto was coming down those stairs," she said with a laugh. "I was so nervous! My dress had been altered but was still too long so I was wearing heels so high to fit the dress. She forgot to wear heels on the stairs before the ceremony, which is good advice to pass on to future brides!
The first couple, Clint's parents, held their candle light ceremony in what is now the dining room. The young couple stood in the front living room in front of the fireplace which sports the original oak mantel. OD Bowling has preformed the parents' ceremony. The young couple were married by Tiffany's friend and classmate Brent Gillespie.
As Clint stood there waiting for her, a sudden silence filled the room – she was coming. He looked up and still remembers what it felt like to see his brother, Austin, escort him on his arm through the arch. She looked so beautiful in her wedding dress when he first saw her. "All my life, I had dreamed of seeing Tiffany in a white dress," he recalls. "The moment I saw her in that white dress with shining eyes and that beautiful smile, it touched a place in my heart that only came from God – it was a dream come true."
Tiffany wore Cyndi's grandmother's garter… traditions matter.
The couple and their parents may have started a new family tradition. The house is perfect for events like this which lend themselves to a family setting with a formal atmosphere, yet still comfortable and relaxing for the guests.
The Proctors seated about 50 guests, for a meal on the wrap-around glassed-in porch. Everyone had a good time. The wedding was a success and the couple couldn't be happier with each other and with the wedding of their dreams.
Alicia Carpenter, a member of the JHF, was the liaison for the family and was touched by the sentimental atmosphere that having both weddings in the same house brought to the event. "It was just precious to see them talking about how the first wedding went and planning how the second was taking shape," Carpenter said.
Good things are always worth the wait…. Congratulations to Mr. and Mrs. Clint Proctor!